First Tenants at Royal Victoria Court Newport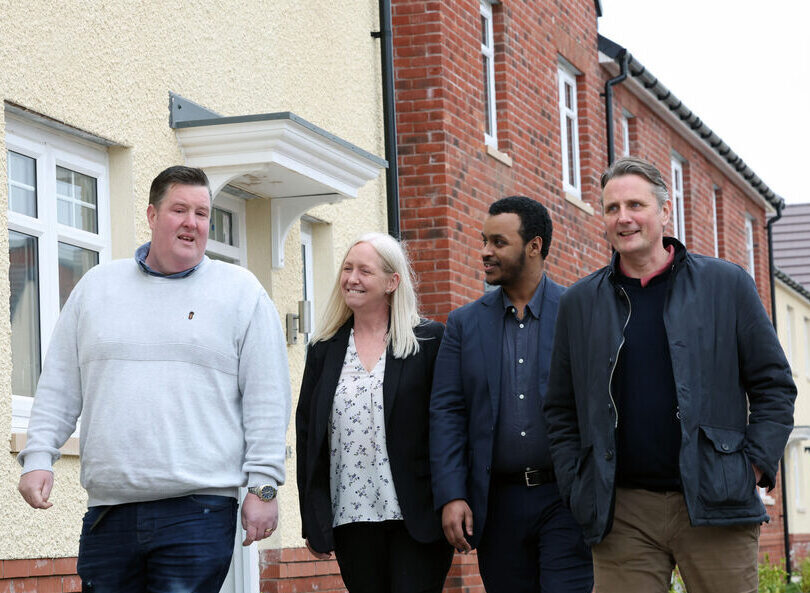 First Tenants Move into Brand New Affordable Royal Victoria Court Homes
The first tenants have moved into Royal Victoria Court in Newport, the second affordable housing scheme from Tirion Homes, the community development organisation.
Regenerating the brownfield site of the former site of the Whiteheads Steelworks, Royal Victoria Court was built in collaboration with development company Lovell Partnerships Ltd and Welsh Government.
The scheme has a total of 528 homes – 234 for rent through Tirion Homes, 264 for sale through Lovell, and 30 low-cost home ownership (LCHO) properties to responsible social landlord Melin Homes to give first-time buyers a step onto the property ladder.
David Ward, chief executive, Tirion Group added, "We are thrilled to be welcoming our first tenants to the Royal Victoria Court community. We want it to be a vibrant, sustainable space which allows households to thrive, as well as to be a part of the ongoing regeneration that is happening across Newport.
"As an organisation, we are all about providing greater choice to those unable to, or those not seeking, to purchase their own home. It is essential that we are able to reflect the community-centric approach of a responsible social landlord, while also seeking new opportunities where we can continue to offer benefits to communities using our innovative private financing model.
"I look forward to welcoming more tenants to Royal Victoria Court over the coming months, as well as future schemes, where we can benefit other communities."
The tenants, have moved from their previous Newport property to Royal Victoria Court due to its prime location in central Newport.
On moving in, they said, "We're so excited to be moving into our new home together and for it to be at Royal Victoria Court. The move means that we are able to stay local to Newport, but in an area closer to the city's amenities. We are looking forward to meeting our neighbours and building a community here as the homes start to find their new families. Tirion Homes have been amazing throughout the application process and we can't wait to build our lives in this lovely property."
Tirion Homes were joined at Royal Victoria Court by Newport City councillors, Debbie Jenkins and Saeed Adan, who were given a tour of the development and the affordable homes that are open for applications.
Cllr Debbie Jenkins commented, "The whole area is wonderful. It is amazing and we need more affordable homes like this, it's what we've been waiting for."
Cllr Saeed Adan added, "In a nutshell, I would like to see more developments like Royal Victoria Court across the ward of Pill. There is a lack of housing supply and I really look forward to seeing the new tenants moving into the houses and for more people to apply to apply for these incredible homes. I hope to frequent the development more in the future."
The collaboration between Lovell and Tirion Homes will see more than 850 new jobs expected to be created through the development, including 20 apprenticeship placements for local people, as well as supporting the local community around Royal Victoria Court such as removing an unsafe playground wall at St. Michael's Catholic Primary School.
Tirion Homes will see their tenants move in through a phased handover until 2025.
For more information about Royal Victoria Court and its homes, visit www.royalvictoriacourt.co.uk
ENDS
For media enquiries, contact Francesca Carpanini, communications consultant by email carpaninicomms@gmail.com
Notes to Editors
About Tirion Group Ltd
Tirion Group was created in 2012 by Welsh Government and Principality Building Society to deliver affordable housing across Wales using an innovative finance model that negated the need for grant.
Tirion Group is a community benefit society, an independent not-for-profit affordable housing developer, owner and estate manager. Tirion is not a commercial developer or a Registered Social Landlord.
Tirion has sites in Cardiff (The Mill, Canton), Newport (Royal Victoria Court) and Tonyrefail (Parc Eirin). In total over 1500 units will be constructed on these sites comprising open market sale, low-cost home ownership, market rent, intermediate rent, discounted rent and social rent.
About Royal Victoria Court
The Whitehead Steelworks had been an important employer since the 1920s up until its demolition in 2005, and is now set to form a critical part of Newport's ongoing regeneration alongside projects like the Friars Walk City Centre redevelopment and the University of South Wales Campus.