THE MILL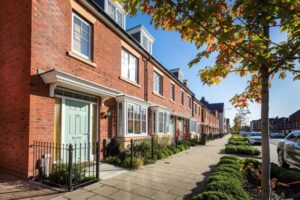 DEVELOPMENT DETAILS
Canton Cardiff
800 homes
2,3, & 4 beds
4 phases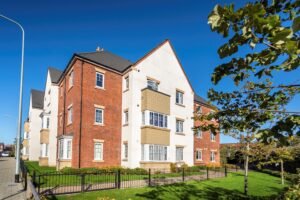 OWNERSHIP OPTIONS
Social Rent (75)
Discount Rent (325)
Private Rent (42)
Open Market Sale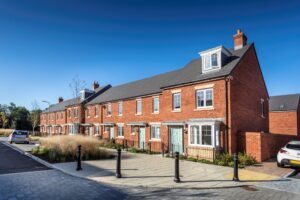 LOCAL AMENITIES
Neighbourhood Centre
Community Hall
Social Enterprise
Riverside Park
Training & Skills Academy
Flood Defences (district wide)
This 53.6-acre former paper manufacturing site is being transformed into a thriving community of 800 homes comprising various residential units and a wide choice of tenure, including social rented, discounted rent, intermediate rent, market rent, and open market sale.
£7m has been invested in cleaning the site and work has now been completed on the £11m site wide infrastructure contract with the construction of the 800 homes well underway.
The Mill is located within easy reach of Cardiff City Centre; and for soccer fans, within walking distance of the Cardiff City Stadium.
The exciting plans for the electrification of the city rail line (Metro Project) will allow the introduction of a train halt near The Mill. The line will provide easy access to the City Centre, The Bay, and Cardiff International Airport.
The M4 can be accessed via the nearby shopping area of Culverhouse Cross.
The improved Ely cycle trail will offer access to The City Centre, The Bay and the Welsh Folk Museum at St Fagan's.
Pedestrian access to the vibrant Cowbridge Road East will be via a bridge over the main London to Swansea rail line. Cowbridge Road East provides access to shops, banks and pubs.
The nearest GP surgery is within walking distance of the site, in Sanatorium Road.
The site is well served for schools (English and Welsh medium), with the local High School within walking distance and the new Treganna Welsh-medium Primary School adjoining the southern end of The Mill.
Nearby is the 20 acre, award winning, Grade II listed Victoria Park; the park has activities for all ages.
The foot/cycle bridge over the River Ely will link The Mill to the wide open spaces of Trelai Park. The park boasts a number of formal playing pitches (and associated changing facilities), allotments and a wooded area.